Rassler - Pro Wrestling Career RPG
Release 9 Notes: The Territory System, Bookers, and Fans
---
Release 9 includes the bedrock for the Territory system, bookers with personalities and skills, and radically changes the way fans are won during a match. It's other, most amusing, addition is the "Favorite move" system, in which each wrestler now has a procedurally generated finisher. The other notable changes are twofold: a cosmetic redo of the RassleCard screen from the initial prototypes, and two new Rassler sprites, bringing the grand total to 22.
Notes about Territories
Currently territories have names generated from a couple of txt files and string templates, and the other stats (popularity, number of fans, and size of territory) are rolled up at game start. Eventually you'll be able to "unlock" more of these through contacts. The territory has the biggest effect right now on how many fans you have available to you.
Notes about Bookers
Bookers names are generated using the same template as wrestlers. They are also rolled up with the following stats: Payoffs, scouting, promotion, personality. One of the big things you always hear old wrestlers talking about is how the payoffs sucked in one place but ruled in another, and I want that to be reflected here.
This release also includes the first ever appearance of _graphs_ instead of numbers in the game. The territories system has its relative values displayed on a bar instead of with numbers for now.
Whats Next
Release 10 is going to be one of those "high sierra" releases. I'm going to make the territory system talk to more of the game, and implement rosters (and champions?) for territories. I've been putting it off because it's a massive pain in the ass, but it'll be worth it and I believe now is the time. Having rankings and persistent "popularity" stat for the whole territory as well as your wrestler will give the game a much more focused feeling in the beginning: You're there to make enough people like you to get a small following and get a regular shot at a decent payday and then work up the ranks for more money and bigger stakes. This is where the majority of the early career of a wrestler was back then, just scraping by in the middle between rookie and champion so long as their bodies held out and they kept getting regular work.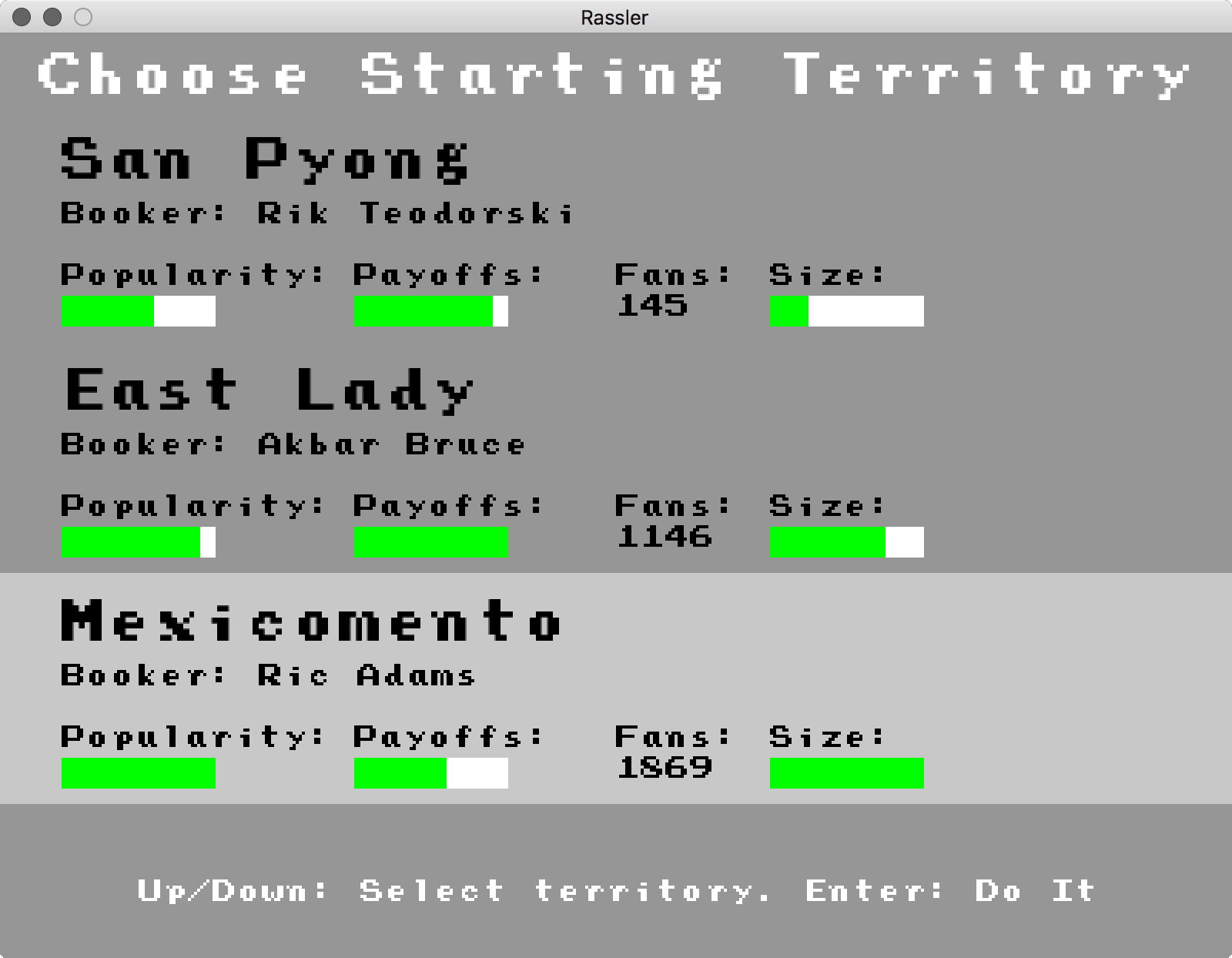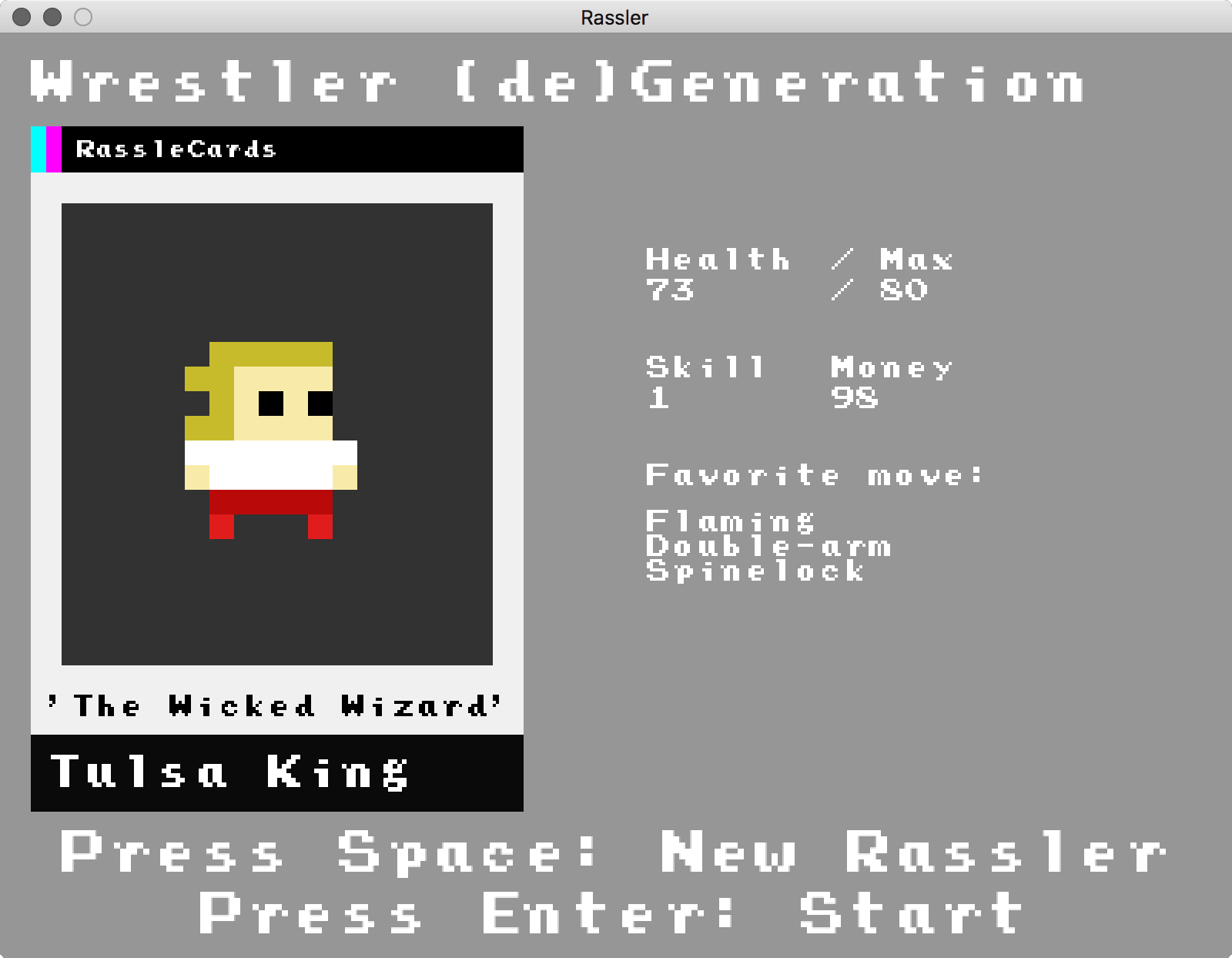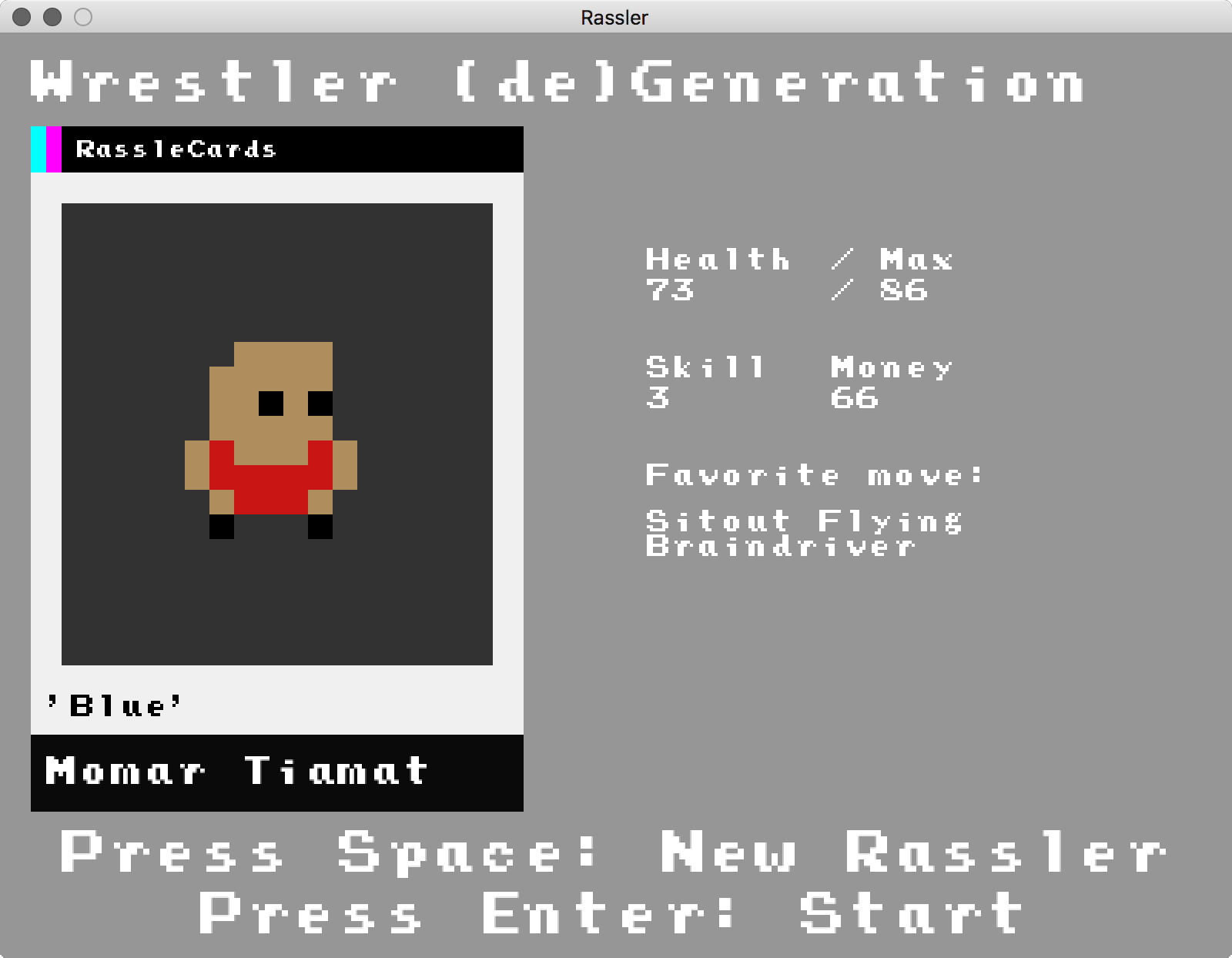 Files
rassler-windows64.zip
4 MB
rassler-windows32.zip
4 MB
Get Rassler - Pro Wrestling Career RPG